There's little that's more daunting than having to give a blow job for the first time. It's not an easy thing to do and every penis is different. More than that, different men like it in different ways so there is little that can be said works every single time except for mouthing on a penis. We could put in this article about how you need to hum around the shaft or that you should use your mouth to form a tight ring, but you've heard all of those before. Also, the people who are coming up with those kinds of tips should think about how much you need to focus on while giving a blow job (at least at first) or all of you males who might be reading this, stop and think about something with me for a second.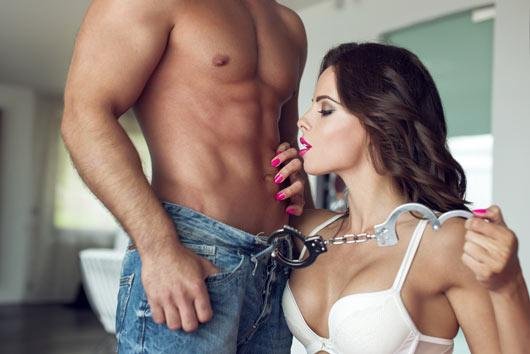 Think of how difficult it is to suck something and keep your mouth open as wide as you'd need to. Try it with a popsicle, a pen, whatever you can stick in your mouth. Your mouth naturally wants to close and anyone who's had too close a brush with teeth will know that's a recipe for disaster.
So if your affair partner isn't the best with blow jobs, a little patience goes a long way.
With that in mind, let's go!
ATTITUDE IS EVERYTHING.
We're not saying that you need to be a porn star or one of those women who would die without a hard dick in your mouth, but if you seem to be dragging your feet you will unconsciously be killing the buzz for your sex partner. Whether or not you are thrilled to be giving a blow job, you must like your partner enough to do so. So try to channel in some of those feelings into the blow job. If you just go about it mechanically, there's very little feedback for him and part of the turn-on is how much you're enjoying giving the blow job. If you're not turned on at all and are treating it as a chore, it's not fun for either of you and defeats the entire point. Show a little enthusiasm and you'll see the results quickly.
DEEPER IS NOT NECESSARILY BETTER.
There's a myth going around that every blow job needs to be deep throat. Some people even think that without deep throat the blow job cannot be pleasurable. The truth of the matter is that the most sensitive part of the penis is the crown or head of the penis. The shaft of his penis not nearly as sensitive, so if you are having trouble with the actual motion of a blow job we would suggest just focusing in on the head. It's much better to get a good blowjob that focuses on the head and all the motions that the tongue can make against it, rather than a sloppy blowjob that tries to do too much.
While the suction of your lips and moving of your head will feel great as well, the tongue is which can turn a blow job from a good one to a great one so focus more on getting used to moving your tongue even if that means you need to slow down the actual sucking.
FOREPLAY IS NOT JUST FOR SEX.
While men are certainly more easily aroused than women are, the fact is that the slower orgasm is often the better one. Whatever type of foreplay you decide to indulge in whether it is dirty talk or fondling, you will generally get a much better response if you have some sort of build-up rather than just jumping on your man's dick. If you can get him to think about you giving him a blow job during the day, his mind will be blown when he finally gets to shoot his load. The divide between women and men is more inflated than most people realize. While sometimes fuck buddy will like it hard and fast, other times they'll like it nice and slow, just like women do.
VARIATION IS IMPORTANT.
As good as a blow job can feel, no one wants the exact same blow job given the exact same way every time that they get a blow job. Try something a little different. If you used your mouth exclusively the last time, try using your mouth and your hand. The internet is chock full of tricks and techniques that you can try from the aforementioned humming to using your fingers to play with the space between his scrotum and his ass (or 'taint' if you want to be colloquial). You don't need to vary everything each time, but by making small adjustments each time you give him a blow job, he'll never know what to expect when it comes to you.
Not knowing what to expect will increase the anticipation and the eventual orgasm.
YOU DON'T JUST NEED TO USE YOUR MOUTH.
This goes back to the idea that you have to deep throat in order to do well, but we're not sure where this came from because even porn stars use their hands. You can use your fingers in many different ways including using them as an extension of your mouth to give your partner an amazing blow job or to use them to cup and fondle his scrotum. Using your hands is also key in keeping things varied and as long as you can find ways to mix up the movements of both your hands and your mouth, you'll keep your affair partner happy on the blow job front.
If you want to be really adventurous and your affair partner is into it, you could even suggest some ass play. Many guys will be too squeamish to let this happen, but once a man has had his prostate stimulated while getting a blow job he's going to be asking for it every single time.